MayaData OpenEBS Enterprise Platform (OEP) is a one-stop solution for visualization, monitoring, management, and migration of Kubernetes stateful workloads using OpenEBS persistent volumes. The suite includes OpenEBS, Litmus, and Director as the three main components. OpenEBS is the leading open-source container attached storage (CAS) solution to manage the storage needs of all kinds of stateful workloads on Kubernetes. Litmus is a cloud-native chaos engineering toolset for Kubernetes SREs and developers alike. OpenEBS Director is the control center of the entire OpenEBS Platform suite, used for visualization, monitoring, and management of all the stateful applications on Kubernetes.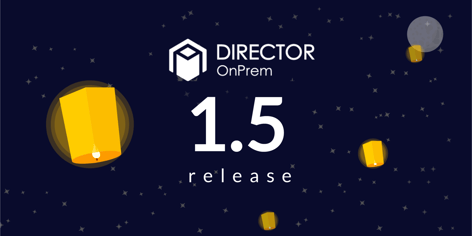 Director is available as an online
SaaS
portal as well as an on-premise helm-based distribution for enterprises with air-gap installation requirements. Director provides full-fledged monitoring support for Kubernetes stateful applications and their OpenEBS persistent volumes, network and storage topological visibility, data migration as a service (DMaaS), integration with collaborative tools like slack, upgrade of OpenEBS data components like storage pools and volumes, and many more features that are useful for storage administrators and application developers.
In accordance with our monthly release cadence, we released version 1.5 of the OpenEBS Platform on the 13th of this month. This includes OpenEBS 1.5, Litmus 0.9, and Director 1.5. Here I'd like to blog about the highlights of the Director 1.5 release.
Helm 3.0 support
Director on-prem can now be installed on a cluster having helm 3.0.0 version.
SuSE CaaS Platform 4 support
Director on-prem can now be installed on the SuSE CaaS platform, starting from version 4 onwards.
OpenEBS 1.5 upgrade support
OpenEBS pools and volumes of versions prior to 1.5 can now be upgraded to 1.5 from the Director portal. For more details on the upgrade process, please refer to the blog on How to perform the upgrade of OpenEBS data components from the Director.
Multiple pool/volume selection during upgrades
Director now provides the option of selecting more than one cStor storage pools and volumes and upgrade them in one go. Director has the intelligence to ensure that no two pools belonging to the same Storage Pool Claim (SPC)/cStor Storage Pool Cluster (CSPC) or no two volumes belonging to the same application will be upgraded simultaneously. This ensures maximum availability of the storage and minimum disruption to the application.
Fig (a) below shows a screenshot of an upgrade process from the portal where two pools belonging to the first CSPC and one pool belonging to the second CSPC are being upgraded simultaneously.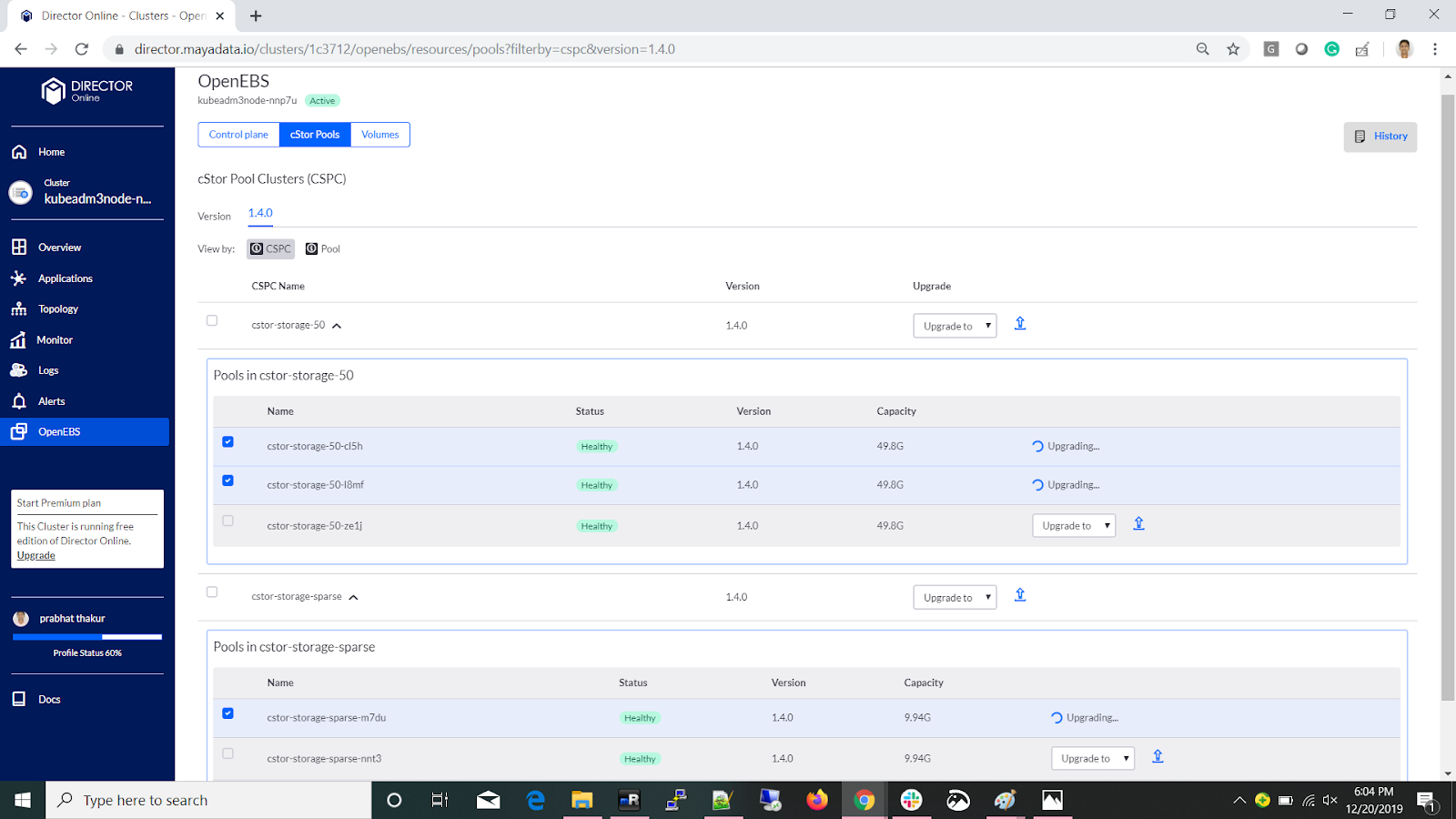 Fig. (a)

Secure Redis monitoring
Director now supports the monitoring of password-protected Redis application. Fig (b) below shows a screenshot of the Redis application monitoring page with password input.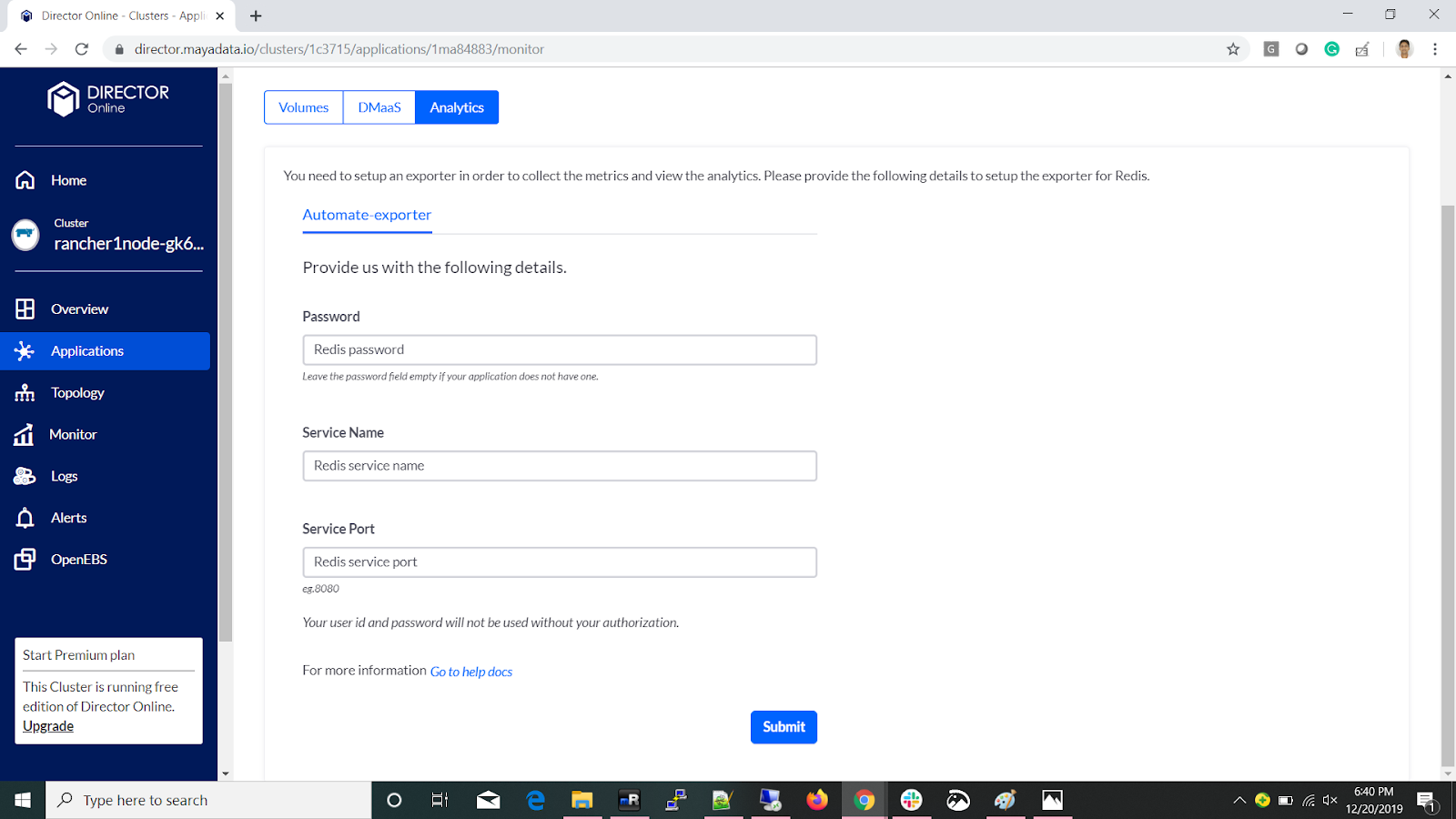 Fig. (b)

DMaaS Fix for synchronizing backup metadata
Fixed an issue where the DMaaS restore used to kick-off without waiting to sync metadata of all backups.
For complete release notes, please refer here.
Upcoming release - 1.6
Keeping up with the release cadence, we will be having 1.6 versions of the software on the 15th of Jan 2020. Notable enhancements that will be a part of 1.6 are:
Teaming - Director users can invite other users to their projects; the invitee can assume the role of project admin or read-only admin.
AD authentication - Enterprise admins will be able to setup Director portal authentication to their AD servers.
Thanks for reading the article. Please leave your suggestions or feedback in the comment section below.