I had the opportunity to speak at SNIA conference recently about the new architecture for cloud native storage — Container Attached Storage.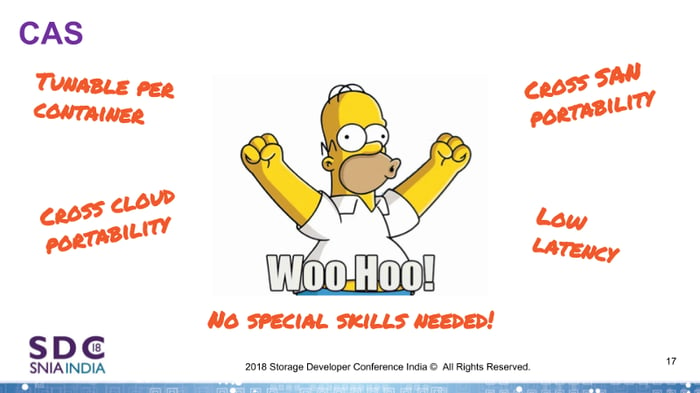 The video session is posted at-
https://youtu.be/3NLZgbfIraw
SNIA session slides are posted at-
Slides
OpenEBS is being used at hundreds of deployments and is famously known for how fast the user can bring up the storage for a stateful application on Kubernetes. Evan Powell also discussed more details about CAS at the CNCF blog post — here is a summary of CAS and benefits.


Summary of CAS
Data for stateful applications is containerized so that the data pods can be managed and orchestrated natively by Kubernetes


Each stateful workload can have a dedicated storage controller, thereby increasing the policy flexibility to the maximum
Try OpenEBS
With OpenEBS 0.6 release, we have added support for snapshots and clones. OpenEBS is still the easiest cloud-native storage solution for Kubernetes today. Installation is as simple as running a helm chart. Provisioning and managing OpenEBS does not need special knowledge as it is integrated into Kubernetes orchestration model.
Take a survey
We would like to know more about how you are using stateful applications and your experience with Cloud Native Storage. Many OpenEBS users have already taken it. Please spend a few minutes and help us learn more.
I hope you have enjoyed this post. Many thank you for taking a look and getting engaged. Please feel free to reach out with any comments or questions.

This article was first published on Jul 30, 2018 on MayaData's Medium Account.