It's that time of the year in late November. In North America, we're putting up lights and already anticipating Christmas and the broader Holiday Season. This week Christmas comes a bit early with KubeCon NA 2020! Goodies include brand new project announcements, updates to familiar projects, and the opportunity to get our hands dirty and try out the tech. We're excited!
Naturally, as the creator and steward of popular cloud native projects like OpenEBS and Litmus, we've also got updates aplenty to share. We've also got some goodies for the Kubera product which polishes and builds on the foundation of that open source work.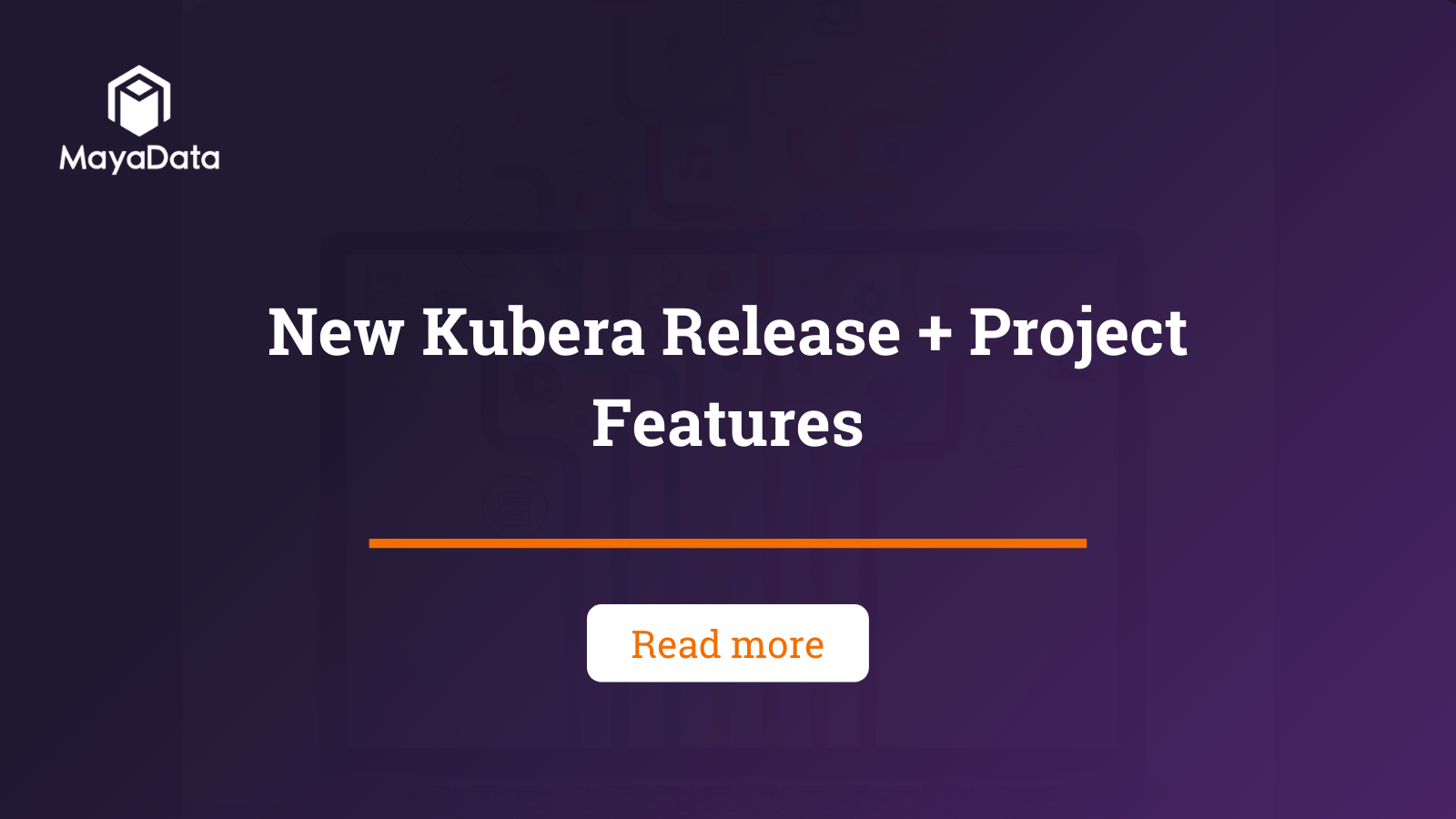 Where to Find us at KubeCon NA 2020
We're a gold sponsor of KubeCon, and that means we'd love to see you swing by Gold Hall A and say Hi. We're also donating to charity this year! Every attendee who visits our booth will increase the amount we donate. Learn more about how that works, here.
Otherwise, you can find MayaData folks talking about data, chaos engineering, and other fun at these presentations:
Chatting on "Meet the maintainers: OpenEBS" panels on Wednesday the 18th and Thursday the 19th starts at 12:00 PM EST for both the days


Kubera
Does MayaData.io look different? It might, since we're just finishing a redesign. We've glossed up the MayaData site to talk about some glittery improvements to Kubera. That's the solution we build on top of the best of cloud native open source. Our goal with Kubera is to improve dev velocity, data agility, and much more. How do we do that? With solutions like Kubera Chaos and Propel.
Kubera Chaos and Kubera Propel are the first modules that can be used independently of our Kubera SaaS (aka Kubera Classic) offering. Their tech preview is the first time you'll be able to consume parts of Kubera individually - they are lightweight, easy to use, and come with our 24x7 enterprise support for customers.
So, what do Kubera Chaos and Kubera Propel do?
Kubera Chaos
Kubera Chaos builds on the solid foundation of the open source and cloud native Litmus Chaos project. Litmus is one of the first and fastest growing Kubernetes native chaos engineering projects. We've integrated Litmus Chaos in with Kubera's out-of-the-box monitoring, granular tests, and enterprise features like additional auth and policy options.
Work on Kubera Chaos is progressing fast, and you can sign up now to be part of the tech preview.
We're happy to also be able to announce that Okteto is offering Litmus Chaos to their users. As Ramiro Berrelleza, CEO and founder of Okteto said, "We have seen tremendous demand for chaos engineering projects integrated into and operating on top of Kubernetes. We selected MayaData's Kubera Chaos for our own use and as a solution simply consumable by our customers, because it is easy to operate and extend, and because the community is open and growing quickly."
Kubera Propel
Kubera Propel similarly builds on a solid foundation of open source. OpenEBS is the most popular cloud native data plane for Kubernetes. It's built with containers as a first-class storage system and offers a number of different storage engines.
Kubera Propel builds on a breakthrough open source storage engine, OpenEBS Mayastor. The goal of Propel is to take modern technologies and approaches like NVMe, DPDK/SPDK, and improved multi-core CPU utilization and combine them together. The result? Unprecedented performance that'll get the most out of any underlying storage array, cloud volume, or the bare metal setup.
The work so far has received high praise from Richard Elling, Principal Architect at Viking Enterprise Solutions who also explains why the architecture and approach of MayaStor are the right one in order to keep up with trends in hardware today. If you follow us on Twitter (why don't you follow us on Twitter!?) you might have also seen similar high praise from Jakub Pavlik, the Director of Engineering at Volterra.
What's to like about Kubera Propel? It's fast (like, really fast), and correct. In the case of Volterra, we're also pleased to say that Volterra has standardized on the use of Kubera Propel for their own use, and for the use of their customers, as well.
Volterra is a global service provider delivering a range of Kubernetes based services, including accelerated application delivery, and multi-cloud networking and management. They have helped us to better understand the coming edge tsunami, and the performance and manageability requirements for data at the edge.
As Pranav Dharwadkar, Volterra's VP of Product puts it, "After an extensive review of options for Kubernetes-based storage and storage management, Volterra selected MayaData's Kubera Propel and OpenEBS thanks in part to its vibrant open source community and strong performance."
We'll have more blogs coming this week, discussing what Beta means for OpenEBS Mayastor. We'll also take our own closer look at Kubera Propel and OpenEBS Mayastor's performance characteristics. Stay tuned for those later in the week. Sign up for the Kubera Propel tech preview if that kind of speed and performance sounds exciting to you.


OpenEBS ARM64 Support, and Improvements Galore
Kubera is great as a product, but as mentioned, it's built on the best of cloud native and open source. To ensure we're actually building on top of the best tech, we've been busy adding features and improving OpenEBS, as well.
This week version 2.3.0 of OpenEBS was released. Highlights include the beta of ARM64 support, improved automation on restores from incremental backups for cStor, and a bundle of improvements to the Node Disk Manager (NDM).


Litmus
Likewise, Litmus saw the release of version 1.10.0 this week. It includes a number of enhancements to tests you can run, and also introduces an early version of ARM64 support.


Incubation?
Given the take off in usage (OpenEBS usage is up more than 500% year on year measured by container pulls) we are at the point where it's time for a step up from CNCF sandbox projects to CNCF incubation for both OpenEBS and Litmus.
We're hard at work modularizing, and cleaning up repos for both projects as part of the prep for our proposal. You can follow along on the progress for the Litmus proposal by taking a look at the PR opened here: https://github.com/cncf/toc/pull/569.


KubeCon is Happening Now!
If you're reading this KubeCon is already underway. You can find us on the schedule by searching for "MayaData" or OpenEBS on the official schedule.
If Kubera sounds interesting, signing up for the tech preview should take just a few seconds.